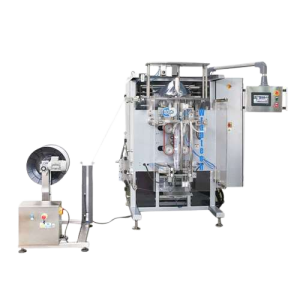 Flexible packaging is on the rise due to several factors, including changing consumer preferences and technological advancements in packaging materials and manufacturing processes. Consumers are increasingly demanding convenience, sustainability, and aesthetics in their packaging choices. Flexible packaging meets these needs with its lightweight, durable, and customizable features.  Companies are now choosing flexible packaging over traditional packaging options, driving its growth in various industries.
Through Wraptech, Uchumi Quick Suppliers Limited offers a range of packaging machines that are designed to meet the specific needs of snack food manufacturers, these include, vertical form-fill-seal (VFFS) machines and horizontal form-fill-seal (HFFS) machines.  VFFS machines are ideal for packaging products like chips and other snack foods, while HFFS machines are better suited for packaging products like crackers and cookies.
Uchumi Quick's machines are user-friendly, making them easy to operate and maintain. They are highly efficient, which means that they can handle large volumes of snack foods quickly and easily. They are also designed to deliver high-quality packaging that protects the snacks while keeping them fresh and appealing to consumers.
Flexible packaging is the perfect solution for snack brands. There are so many advantages, such as:
Longer Shelf Life: Flexible packaging has a barrier that protects the contents from moisture, light, and air. This means that snacks will stay fresh for longer periods of time.
Portability: Flexible packaging is lightweight and easy to carry. Due to resealable options for pouches with zippers or pinch seals snacks can be easily taken on-the-go, making it a popular choice for busy consumers.
Customizable: Flexible packaging can be customized to fit the specific needs of the snack brand. This means that unique shapes, sizes, and designs can be created to appeal to consumers.
Cost-effective: Flexible packaging is typically less expensive than traditional packaging methods, such as rigid packaging. This can help snack brands save money on production costs.
Environmentally-friendly: Many flexible packaging options are recyclable or made from sustainable materials, making them a more environmentally-friendly choice than other packaging options.
Eye-catching: Flexible packaging allows for bright, bold designs that can help a snack brand stand out on store shelves and catch the attention of consumers.
Versatility: Flexible packaging can be used for a wide range of snack types, from chips to candy, making it a versatile packaging option for snack brands.
An investment in machines from Uchumi Quick is certain to deliver a fast ROI and a marked improvement in production efficiencies – our guarantee is to increase your bottom line through lower production costs. Our machines are designed to work on a wide variety of products and several pack formats.
To learn more about the great benefits of our VFFS and HFFS machines, contact us now! We will take time to understand your production and operational needs before we deliver the most appropriate solution.
+254 110 492 589
info@uchumiquick.com