According to a report by ResearchAndMarkets.com, the global potato crisps market is expected to grow at a CAGR of 4.2% from 2021 to 2026. The report cites several factors driving this growth, including increasing demand for convenience foods, changing consumer lifestyles, and the availability of a wide range of flavors and varieties of potato chips. Additionally, the increasing popularity of online sales channels and the growing trend of snacking among millennials and Gen Z consumers are also expected to contribute to the growth of the potato chips market.
Automating production lines can provide numerous benefits to crisps manufacturing companies, leading to increased growth and profitability.
Automation improves production efficiency and reduces operational costs by streamlining the manufacturing process and minimizing the need for human labor. This can lead to higher production output, consistent quality, and faster turnaround times.
Uchumi Quick Suppliers Ltd  is a representative of  Dynamech Engineers in East Africa who have been in Snack-Making Machinery business for over three decades. Our state-of-the-art potato crisps equipment from Dynamech Engineers can make your processes profitable, safer and flexible leading to increased output and reduced labor costs.
Features of our Fully automated Potato Production Lines
Specially engineered multi oil inlets maintain positive oil flow to clear the product infeed area & provide precise control of temperature & rapid adjustment to feed change.
Circulating oil keeps fines in suspension for efficient removal. Every minute 100% of the system oil volume passes through a drum filter to remove 100% product particles for the highest oil & product quality.
Low oil volume and rapid oil turnover assure fresh products with a long shelf life.
Indigenously developed air knife removes excess surface water from washed slices. Less pm-frying slice surface moisture reduces energy consumption & increases the edible oil shelf life.
Compact design results in cost efficient operations by reducing space, energy & water usage.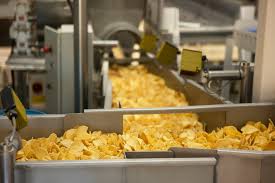 With the automated production lines from Uchumi Quick Suppliers Ltd we can help your crisps manufacturing company meet your increasing demand while maintaining your product consistency. This will in turn help build your brand loyalty and increase your market share. By utilizing our cutting-edge technology, your business can optimize its production processes and reduce waste, leading to improved profitability and competitiveness in the marketplace.
Some more benefits for using our production lines include:
Increased Production: Fully automatic potato crisps machines can produce large quantities of potato crisps quickly and efficiently. This can increase production output and help manufacturers meet demand more efficiently.
Reduced Labor Costs: With an automatic potato crisps machine, there is less need for manual labor, leading to reduced labor costs and increased profitability.
Improved Efficiency: Our automatic potato crisps machines can operate continuously for long periods of time, reducing downtime and improving efficiency.
Customizable: Our fully automatic potato crisps machines are highly customizable, allowing manufacturers to produce a wide range of potato crisps flavors, sizes, and shapes.
Easy to Operate: The automatic potato crisps machine is easy to operate, with user-friendly controls and touch screens, reducing the need for highly skilled operators.
An investment in Uchumi Quick Suppliers Ltd machines is certain to deliver a fast ROI and a marked improvement in production efficiencies – our guarantee is to increase your bottom line through lower production costs.
To learn more about the great benefits of our crisps making machines, contact us now! We will take time to understand your production and operational needs before we deliver the most appropriate solution.
Contact Us
https://uchumiquick.com/contact-us/
+254 110 492 589
info@uchumiquick.com