The packaging industry has experienced significant growth in recent years due to advancements in technology and consumer demands, thereby driving innovation in packaging solutions. One type of packaging that has seen significant growth in recent years is the use of flat-bottom gusset bags. According to a report by ReportLinker Insights, the global block bottom bags market is expected to grow at a CAGR of 5.5% from 2020 to 2027. The high demand for these types of bags is due to their solid level bottom, which offers shelf stability. The safe base is ideal for a range of consumer goods packaging, such as maize flour, wheat flour, sugar and other consumer goods.
Other factors driving the growth of block bottom bags in the packaging industry:
Durability and Stability: Block bottom bags are designed with a flat base and sturdy sides, making them ideal for packaging heavy or bulky products such as coffee, maize flour, wheat flour, tea, etc.
Sustainability: Block bottom bags are made from recycled materials and are 100% recyclable, making them a more environmentally-friendly packaging option compared to other types of packaging.
Ease of use: Block bottom bags are easy to open and close, and they stand upright on their own, making them convenient for customers to use and store.
Versatility: Block bottom bags can be used for a wide range of products and industries, including food, flour, coffee, tea, and more.
Growing demand for food packaging: The food industry is expected to continue to grow in the coming years, which will drive the demand for food packaging, including block bottom bags.
Increased consumer awareness: Consumers are becoming more aware of the environmental impact of packaging and are looking for more sustainable and eco-friendly packaging solutions, which is driving the growth of block bottom bags.
Packaging machinery for block bottom bags is an essential aspect of the industry in order to provide efficient and effective solutions for a wide range of products.
Our Automatic packing machines are manufactured by Italpack, a leading global provider for compact, fast and precise packaging solutions for maize and wheat flour in block bottom paper bags.
With the flexibility of our equipment, different bag sizes and volumes can be packed with two closing systems available i.e., mechanical gluing and spray gluing.
Changeover times on our machines are rapid and user-friendly, keeping down-times to a minimum.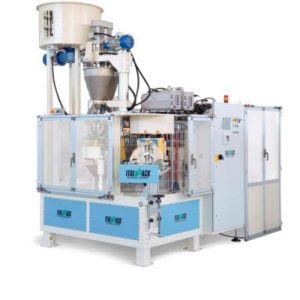 When choosing packaging machinery for block bottom bags, it is important to consider the specific requirements of the product such as maize flour or wheat flour packaging, as well as the desired output rate for the packaging operation.
Italpack is a reputable manufacturer with a proven track record in the maize and wheat flour packaging industry.
With our machines, you will be guaranteed:
Accessibility from every side for easy cleaning and maintenance.
Simple format change process.
Faster checkweigher and feedback correction due to the position of the load cells.
Reliable mechanical movements, cam driven in forced lubrication enclosed chamber.
Easy sourced ISO standard parts and OEM Italpack parts at very reasonable prices.
Immediate on-line or over the phone remote assistance.
Pretty brick-shaped accurately sealed bags.
To learn more about the benefits of our Automatic machines for efficient and effective packaging of maize flour and wheat flour in ready-made, Flat-Bottom Gusset bags, contact us now. Our team will take the time to understand your production and operational needs before delivering the most appropriate solution for your maize and wheat flour packaging needs.
https://uchumiquick.com/contact-us/
+254 110 492 589
info@uchumiquick.com