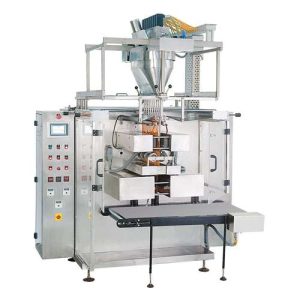 According to a report by Zion Market Research, the global single-use packaging market was valued at around USD 129.4 billion in 2019 and is expected to reach approximately USD 191.9 billion by 2026, at a CAGR of around 6.2% between 2020 and 2026. This type of packaging has become increasingly popular in recent years with a growing number of industries turning to sachet packaging as a cost-effective and convenient solution.
One of the key goals of sachet packaging is to transform luxury into affordability. This type of packaging can help to make luxury products more affordable by reducing the cost of production and distribution. Driving on customization and cost economics, industries have re-imagined their product offerings to address most financial needs.
Single-use packaging is also a convenient solution for products that have a short shelf life or are highly perishable.
https://www.youtube.com/watch?v=cbJfKSQByXc&t=7s
Advantages of Single-use packaging:
Convenience: Single-use packaging is easy to open and use, making it popular for on-the-go products such as snacks, travel-size toiletries, and single-dose medication.
Portability: Sachet packaging is small and lightweight, making it easy to transport and store. This makes it ideal for products that are intended for outdoor use or for people who are always on the move.
Cost-effectiveness: Single-use packaging is cheaper to produce than other types of packaging such as bottles and jars, making it a popular choice for companies and small businesses looking to sell their products at a lower cost.
Customizability: Single-use packaging can be designed and printed with a variety of colors and patterns, allowing companies to create an appealing and eye-catching package design.
Versatility: Sachet packaging can be used for a wide range of products including food, personal care products, and chemicals, making it a versatile packaging option.
Reduced storage and transportation costs as it takes less space to store and transport large amounts of products packaged as single-use.
Reduced risk of contamination as it eliminates the need for multiple openings and re-closing of packaging.
Sachet packaging is also useful for products that have a short shelf life or are highly perishable.
One of the most effective solutions for sachet packaging is the use of VFFS (Vertical Form Fill Seal) and HFFS (Horizontal Form Fill Seal) machines. These machines offer a number of advantages over other packaging solutions, making them the best choice for any company looking to improve their packaging process.
Our VFFS and HFFS machines are manufactured by Wraptech Machines, a leading global provider of integrated packaging solutions.
Through them, we offer three different levels of the VFFS and HFFS machines for diverse applications.
Entry-level machines: These are ideal for small to medium-sized companies with lower production volumes,
Mid-level machines: These are designed for medium to high-volume production.
High-end machines: These are ideal for large-scale production and are fully automatic with advanced technology and features.
          
MB 160 (Multilane Stick Pack)Our machines are able to handle a wide range of products, from powders and granules to liquids and pastes, making them versatile and adaptable to different packaging needs.
These machines use advanced technology to create precise and consistent packages, ensuring that products are protected and preserved to the highest standards. They also have a wide range of customizable options, such as different film materials, sizes and shapes, and printing options that can enhance the packaging visual appeal and increase the brand recognition.
In addition to their speed and efficiency, our VFFS and HFFS machines are also designed with ease of use in mind. They are easy to operate and maintain, making them suitable for businesses of all sizes. They also have the ability to integrate with other equipment, such as checkweighers, metal detectors, and vision systems, to enhance the overall packaging process.
Our VFFS and HFFS machines are a cost-effective solution as they have a low operating cost, use minimal energy and require minimal maintenance. They also have a long lifespan, ensuring that companies will be able to use them for many years.
To learn more about the great benefits of our VFFS and HFFS machines for single-use packaging, contact us now! We will take time to understand your production and operational needs before we deliver the most appropriate solution.
https://uchumiquick.com/contact-us/
+254 110 492 589
info@uchumiquick.com