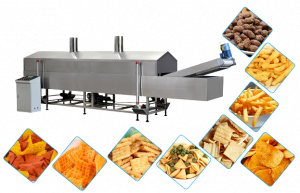 According to a new market research report by Grandview Research, the global market size for healthy snacks was valued at USD 85.6 billion in 2021 and is expected to expand at a compound annual growth rate (CAGR) of 6.6% from 2022 to 2030. The surge in the sale of packaged food, together with the continuous development of the supply chain is driving the growth of the global industrial food market.
There has been a notable shift in eating patterns as customers are becoming more health-conscious and have an increased disposable income. New-age customers want nutritious, on-the-go, and economical snacking options that suit their nutritional needs while also satisfying their taste buds.
Demand in the snack food industry has held strong despite increased competition and rapidly changing preferences. To stay relevant, snack food manufacturers must continually adapt to the changing tastes of consumers and alter their offerings to fit the public's tastes.
With more people opting to snack instead of having what we would recognize as a traditional meal, snack manufacturers have focused on:
Producing healthier snacks with more nutritional value
Ensuring more of their products are available through e-commerce
Selling products in larger, better value pack sizes
Snack manufactures are also pushing to make their products available in many locations and at the right time to connect with their consumers.
For manufactures to beat demand while meeting client's expectations, snack manufacturing businesses are investing heavily in snack making technology as they improve the quality of finished products.
Purchasing a snack processing line is a big investment to any manufacturing company: getting one from a reliable expert makes all the difference.
Our Snack making machines are from Dynamech Engineers, who have been in the snack making industry for over three decades. Through them, we offer a range of snack production lines. These are:
·        Fully Automatic Production Lines
·        Semi-Automatic Production Lines
·        Batch Based Automatic Production Lines
All our machines have:
1.      Frying Control– Specially engineered multi oil inlets that maintain a positive oil flow to clear the product infeed area & provide precise control of temperature & rapid adjustment to feed change.
2.     Continuous Filtration – Circulating oil keeps filters in suspension for efficient removal. Every minute 100% of the system oil volume passes through drum filter to remove 100% product particles for the highest oil & product quality.
3.     Oil Quality– Low oil volume and rapid oil turnover assure fresh products with a long shelf life.
4.     Air Knife– Indigenously developed air knife removes excess surface water from washed slices reducing energy consumption while increasing the edible oil shelf life.
5.     Compact design– Compact design results into cost efficient operations by reducing space, energy & water usage.
6.     "Oil-free" technology- The latest lines from Dynamech offer an "oil-free" line, which reduces oil permeation from 40% usually seen in fried snacks to around 9%. It does this through a salt-roasting process, and oil is only added to the snacks at the spicing stage to help with flavor adhesion.
An investment in our machines is certain to deliver a fast ROI and a marked improvement in production efficiencies – our guarantee is to increase your bottom line through lower production costs.
To learn more about the great benefits of our snack making machines, contact us now! We will take time to understand your production and operational needs before we deliver the most appropriate solution.
+254 110 492 589
info@uchumiquick.com